STEP 2
Check the qualifications
Review our Rental Qualifications to review our requirements for renting.
Watch a brief video covering our qualifications process >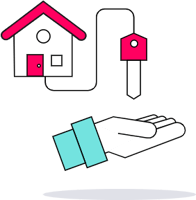 STEP 3
View the home
Qualifications checked out? Great! Review the listing of the home to schedule a convenient self-tour and find out which Leasing Agent you can call for questions. Learn more about how to tour >>
STEP 4
Time to apply
Our desirable homes fly off the market – don't wait to apply! Click the "Apply Now" button on the property listing you are interested in and complete our secure online application form.
Watch a brief video to learn more about our applications process >
*Application fees are required for each occupant aged 18 years and over. These fees are non-refundable regardless of the outcome of your application. Applications are reviewed and processed through our online system and multiple applications may be received at any given time. An application may take up to 2 business days to process and receive approval from reporting services i.e. criminal background check and credit history.
Important Application Reminders:
There may be multiple applications in progress on the home you are applying for. If your application is approved, the next step will be to pay the $500 holding fee (part of your security deposit). The holding fee is what reserves the home and takes it off the market, not your application. So don't wait! Make sure you complete your application in its entirety with all required documents to expedite the process to pay your holding fee and reserve your desired home!

For Pre-leasing: The $500 Holding Fee is non-refundable upon payment, except when the home is pre-leased. When a home is pre-leased, the $500 Holding Fee becomes non-refundable 48 hours after informing the Approved Applicant the home is now available to tour. Please review our Pre-Leasing Program page for more information.

Your application fee is non-refundable.

Your home of interest likely includes additional fees in addition to the rent payment. Please make sure you have discussed these fees with your leasing agent to make the right decision for you.
What happens after I submit my application?
Hang tight for review
Once you've applied, it's time for our team to review. Please know that the process can take up to 2 business days and is dependent on verification of documents and information provided.
Watch a short video to learn more about our reviewal process
Once approved, pay your holding fee
Holding fees are taken on a first-come, first-served basis. The first person to pay the holding fee takes the home off the market. Our homes go quickly, so don't wait!
A couple more things to keep in mind

Utilities
Pursuant to the terms of your lease, resident(s) may be required to transfer and take financial responsibility for all utility services at the above listed address including, but not limited to:
Electricity
Gas
Water
Sewer
Trash Removal Service

Resident Responsibilities
Renting a single-family home means more freedom, space, privacy, and enjoyment; it also means responsibility. ResiHome will take care of your home's major maintenance issues, but you will be responsible for the routine upkeep of your home. This includes things like landscape maintenance, pest control, and winterizing your home.
Review our resident responsibilities questions here!
General FAQ
What are the benefits of renting with ResiHome?
At ResiHome, we make rental life easy and convenient. We professionally manage beautiful homes in great neighborhoods across the U.S and provide them at affordable rental prices. We offer our residents an easy-to-use, online portal to pay rent, submit maintenance requests, and view their resident accounts. Our residents maintain the home as their own, but we take care of those big maintenance issues so you don't have to. Another bonus – we're pet-friendly! Learn more here.
Are your homes new or renovated?
We offer our residents the opportunity to rent newly-constructed homes or newly renovated homes located in top neighborhoods and communities, including dedicated rental communities. You get to pick whichever suits you and your family best!
How do I find a home where I want to live?
Can I transfer from one ResiHome property to another?
Of course! That being said, you will have to go through the application process for approval to ensure that you financially qualify for the home. However, you won't have to pay another application fee if you switch properties, so long as the transfer request is completed within 48 hours after receiving application approval.
Do you allow pets?
Yes, we love pets! A maximum of three pets is allowed in the home. Please note that pets are subject to approval and there is a one-time pet fee. View our Pet Restrictions >>
What does my holding fee cover?
All approved applicants must log in to the application portal and secure the home of choice within 24 hours of approval. One applicant on the approved application is required to place the $500* holding fee prior to having a lease generated. The $500* holding fee becomes non-refundable once the holding fee payment is made. The holding fee will be credited towards the security deposit or other initial fees due 72 hours prior to the lease start date.
Preleasing: If you have not visited the home, please note the $500* holding fee will be refunded in the event the home does not meet your needs. Please note that the decision to proceed with the home or not is due in writing within 24 hours of viewing the property. If you have not communicated to cancel the lease within 24 hours of payment the holding fee will be forfeited. Please note that you may not transfer your holding fee to more than 1 home after the first cancellation. A new holding fee payment will be required to secure any other home.
*Application and fees do not apply in all states and are subject to all local and state laws.
Leasing FAQ
How do I apply to rent one of your homes?
First, make sure you've read through our rental qualifications. View our Rental Qualifications>>
Then click the "Apply Now" button on the property listing you are interested in and complete our Secure Online Application form! ​Please note that the application fee is non-refundable.
How long will my application take to process?
Please allow up to 2 business days for your application to be processed. If an application is submitted during the weekend or a holiday, that application will be processed the following business day. If you need to call back with more information regarding your application, please do so within this time frame.
Please remember to stay safe on the web and avoid rental fraud. Our rental applications can only be submitted through our secure online application partner, Findigs, at findigs.com.
What leasing fees are associated with renting a home?
Yes, there are typically additional financial responsibilities that go beyond the rent payment itself, however, these charges will be listed on your lease before you sign, and vary per community. If you have any additional questions about leasing fees, please contact the Leasing Agent associated with your property of interest.
When can I move into my home with ResiHome?
While the move-in timeline varies based on when the application is processed, our residents usually experience an average turnaround time of two to three weeks from the start of the application process until move-in day. Read more on our rental process >>
Is there an income requirement, or any other requirements to apply?
Yes. The net monthly income of all leaseholder(s) will be considered jointly and should equal 2.5 net times the rental rate of the home. View our Rental Qualifications>>
How important is my credit score in my application?
Although our decision is not solely based on credit, credit history should show that the resident has paid bills on time and does not have a history of debt write-offs or collection accounts. Any money owed to a previous landlord or to any utility company is cause for denial. Residency may also be denied due to poor credit history. Click here for our list of qualifications >>
Do I have to have renters insurance to rent with ResiHome?
Yes! You are required to have renters insurance coverage at your new address showing ResiHome as Additional Insured, with a minimum of $100,000 in Liability Insurance. Our partner, LeaseTrack, manages renters insurance on our behalf. They will reach out to you for a copy of your Renters Insurance or to offer you alternative options, if needed, prior to move-in and during your lease renewal. We also encourage you to get Personal Property Coverage for your personal belongings.
What happens if my application is denied?
Unfortunately, we cannot discuss the nature of your denial. Please contact Transunion at 888-710-0270 and reference your "Application through ResiHome."
Can I add a co-signer to a denied application?
Yes, you can add a Co-Signer to your denied application, so long as the co-signer is making 5x the rent price and has a 620+ credit score.